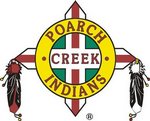 www.poarchcreekindians.org
On February 28th, 2013, the Poarch Band of Creek Indians donated millions of dollars to schools all over Escambia and Baldwin county, as well as schools in Escambia county FL and Monroe County.
Included in this generous amount was $128,465.02 for Escambia County High School to be used for improvements in the Auditorium and in Instructional Technology.
The ECHS administration would like to thank PCI for their generous contribution to the education of all students in the Atmore community.